Digital vs Flexographic Printing
When it comes to choosing digital vs flexographic printing, there are a variety of considerations that should guide your decision to choose one print technique or the other. Some types of print runs and artwork objectives will work better with one type of printing. However, some companies may find that a combination of digital and flexographic printing is the best approach to suit their needs, especially if they have a variety of products to consider. We'll take a look at both printing technologies and go over how to evaluate which option will be best for your product line.
How Does Digital Printing Work?
Let's start off with a definition of digital printing. Digital printing spans a wide range of techniques, but the most defining characteristic of digital printing is that it does not require the use of plates in its printing process. Instead, it uses laser and inkjet to transfer pigments onto a given substrate.
What is Flexo?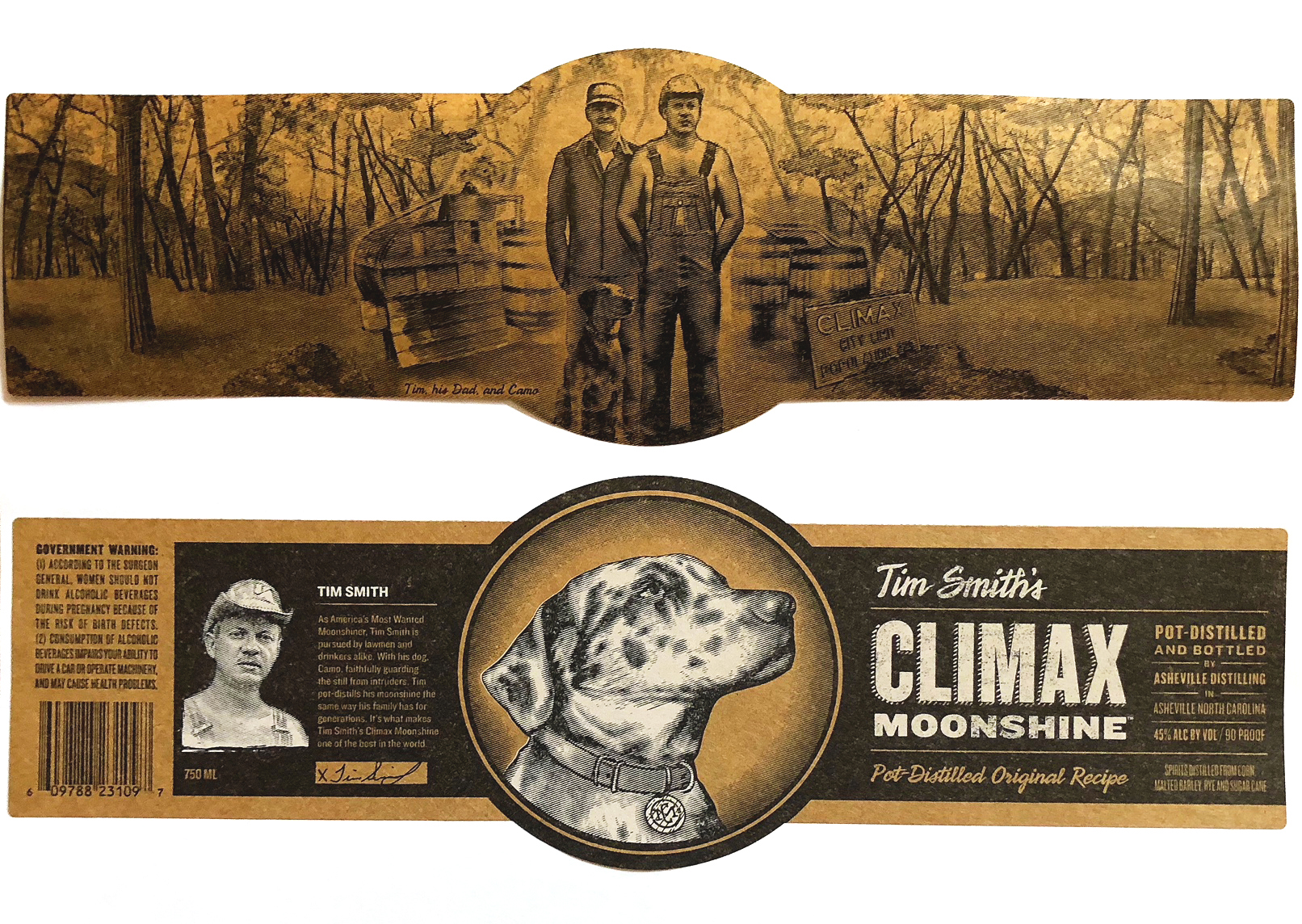 This Tim Smith's Climax Moonshine label was produced with flexography and features backprinting, a technique specific to flexographic printing techniques.
Flexo, or flexographic printing, is a printing technique that uses a flexible relief plate. Ink is transferred from a roller onto this flexible plate. Then, the plate transfers the ink onto a certain substrate. Flexography can print very quickly and is ideal for long-run printing needs. Your label needs, design, and budget will determine the type of printing that is ideal for your project.
There are a number of considerations when choosing your printing technique. We'll talk about these in more detail below.
Label Quantity

If your print run is for a seasonal product, limited edition, or you just want to test out new branding, digital printing is going to be the optimal choice for you. Label quantities of 500 up to 3,000 are going to be most cost-effective using digital printing techniques. Print runs of 3,000 labels or more are best off with flexographic printing, which can produce more labels at a given time at a quicker speed.

Price

Your budget is going to be a large factor when choosing which type of printing you want for your labels. Digital printing is generally cheaper because of the lack of plate production that is essential for flexographic printing. However, as we mentioned above, the label quantity is a determinant in choosing print technique to optimize your cost per label. Your label design, any special printing techniques, and your substrate choice will affect your cost as well. You'll have to weigh your options and decide what is best for you and, as an extension, what is best for your budget.

Specialty Effects

In general, flexographic printing can produce more intricate designs and employs a wider variety of print techniques and specialty effects. Digital printing is somewhat limited in its capability compared to flexo, which can apply techniques such as foiling and backprinting. However, digital printing can supplement some specialty techniques to mimic what flexographic printing can do. Printing on metallic substrates, applying heavy varnish and curing with UV light, and combinations of various gloss and matte varnish can create intricate and eye-catching details.
Color Logic Metallics
This Shallbetter label showcases vibrancy in its artwork and a high-gloss shine, a feature courtesy of gloss varnish and digital printing techniques.
Color logic is a variety of digital printing that uses a four-color process, metallic color system. It allows for the creation of up to 250 different metallic colors in a single print run. This type of printing can allow you to still use digital techniques but integrate metallic accents into your label design. The color logic system can also produce effects like gradations, watermarks, and can add dimension to label artwork.
Inkjet and Memjet Printers
Inkjet and memjet printers recreate digital artwork by projecting droplets of ink onto various substrates. At Derksen Co., we work with both Memjet and Inkjet printers to produce labels that have vibrancy and stunning clarity. Memjet is a newer technology that has been produced from the existing Inkjet printer. It features greater control over ink distribution and allows for higher resolutions in its produced images.
The decision between flexographic vs digital printing is a highly personal choice and one that depends heavily on a variety of factors. Our team can help you decide which printing technique is best-suited to your product and vision. Contact us by calling 920-685-4000 or by emailing team@derksenco.com.